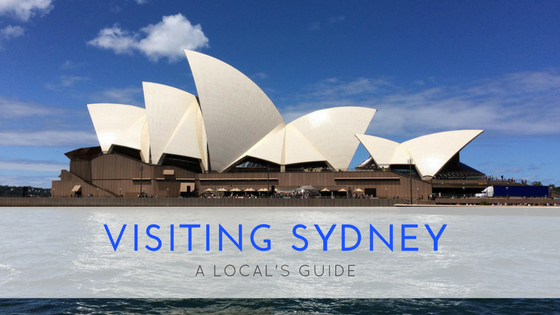 Planning your trip
Sydney boasts mild, enjoyable weather all year long, so I don't think there is a particularly "bad" time to visit. If you want to see a specific event, like light projections on the Opera house or the whale migration, choosing the right month is crucial. If you desire a beach holiday, obviously Sydney in summer is best (Read more: when to visit Sydney).
Festivals aside, my favourite month in Sydney is November. The weather is warm enough to admire some of the amazing beaches, however, you won't be subject to the sticky humidity of February and March.  November is considered shoulder season, so most tourist destinations are not yet busy, and accommodations and tour prices haven't yet increased for busy Christmas time.
Even the winter (June-August) provides a lovely visit, with temperatures rarely dipping below 10C/50F. While not the best beach weather, the coolness and lack of crowds makes longer hikes, downtown sightseeing, and museums even more pleasant.
How long should you spend in Sydney?
If you are planning an international trip to Australia, I'll assume you want to explore beyond Sydney during your stay. Most people fly into Sydney and then out to Cairns for snorkeling the Great Barrier Reef (Read: Port Douglas vs. Cairns snorkeling).
I think a week is a perfect amount of time to:
Where should you stay?
Near Town Hall
Urban Sydney lacks sufficient driving and parking facilities, so I suggest staying near a train station. Town Hall (Pitt/Market Streets) provide several options. Town Hall is on the major train lines and easily accessible to Circular Quay. You can casually stroll down to kid-friendly Darling Harbour which offers the aquarium, Sydney zoo, Tumbalong park, and a beautiful harbour. Additionally, the area offers a plethora of eating options at a range of prices. Be aware that the closer you get to Goulburn St, you start reaching into Chinatown/Central Station which is louder and less kid-friendly.
Pyrmont
If you don't mind a bit of a walk, or want a little space from the bustling city, Pyrmont is a lovely, quiet area. Look for accommodations off Darling Dr or near Harbourside, allowing you to use the pedestrian Pyrmont bridge to easily access Darling Harbour and Cockle Bay. Plus, you are convenient to either the Convention Center or Pyrmont Bay light rail stops which connect to Central and the rail lines.
Circular Quay
The most expensive area is Circular Quay and the Rocks for both accommodations and dining. The trade-off is close proximity to Sydney Harbour, the Opera House, Botanic Gardens, and Circular Quay (pronounced 'key'). For shorter trips, it might be worth the expensive price tag so that you are centrally located within the city and don't have to figure out the trains. You can easily catch taxis or tours to the beaches and other day trip destinations.
Manly/Fairlight
If you are looking for a beach experience outside the major metro area, check out Manly and Fairlight on the Northern beaches. The laid back atmosphere is conducive for an outdoors focused trip, convenient to several great beaches for surfing (Manly), snorkeling (Shelly) and splashing (Manly Wharf). You are also only a 30 minute ferry ride away from all the urban action at Circular Quay.
Travel from the Airport
We are huge proponents of public transit and find the trains and buses in Sydney clean, reliable, and affordable. If you want to take the train to your hotel, pick up an Opal card at the train exit of the airport (located in both the international and domestic terminals). Add $40 per person for starters (the airport surcharge is $13.80, and most shorter trips will be $2.40 one way) and keep the accompanying paper so you can easily top up your card online.
However, for families, a taxi might be a more convenient and even cheaper option. Here are a few reasons why you might want to skip the train:
The cost of transit into and out of the airport is accompanied with a hefty surcharge ($13.80/pp), a taxi to the city costs $50-$55.
The taxi stands at the airport run extremely efficiently, you do not need to book a taxi and can always find a van or larger vehicle if necessary.
Train travel during rush hour with lots of suitcases will be sardine conditions and possibly stressful, if you are like me. However, street travel during rush hour will be slow and expensive in a taxi…maybe you should just grab a coffee and chill for an hour or so.
---
Visiting Sydney with Kids – Things to do
I personally think that Sydney has something for everyone. From urban wonders (the bridge, Opera house), natural beauty (beaches, Royal Botanic Gardens), to entertainment for kids you will not be short on things to do during your stay. Our slow travel style lends itself best to families with younger children who appreciate time outside. We have season specific suggestions (Read: 12 Things to do in Sydney in the Summer and Winter in Sydney) as well as general picks below.
Animals and Outdoors
World-famous Taronga Zoo – Enjoy a scenic cable car ride up to an expansive zoo with dramatic city views. Our favourites: stroll among free range kangaroos at the backyard to Bush kids trail, watch local birds swooping through the air at the QBE Bird Show, and take the requisite koala photo! Read: Our tips for Taronga Zoo.
Locals note: Avoid on the weekends especially during school holidays, if possible
Sydney Aquarium in Darling Harbour – great for 3 hours when you want to stay indoors, and learn about Australian animals beneath the surface. The shark tunnel never fails to exhilarate. We can't help but smile while watching the dugongs munch on lettuce, and sailing through the newly opened penguin boat ride!
Whale season off the coast of Sydney stretches for months, with Humpbacks migrating North from Antarctica from May to August, and back South with the new calves from August to December. We have observed whales from hiking lookouts (Watson's Bay is the best), as well as from a boat. We have no affiliation, and loved the small boats and interesting information on our Oz Whale Watching tour. For those susceptible to motion sickness (everyone in our family raises their hand), take a motion sickness tablet before boarding – it will make your experience much more pleasant. 
Explore the Royal Botanic Gardens. Grab sandwiches or eat at the garden cafe for a serene afternoon outdoors. Mrs. Macquarie's chair provides one of the best views of the Opera House and Bridge, and CZ is enamored with eel spotting (yes, eels) in the Main pond. Hop on the Choo-choo express to give your legs a break while learning about the gardens in an adorable red train car.
Arts and Culture
Watch a kid-friendly show at the Opera House! Relish in the architectural marvel while the family enjoys a fun show in one of the iconic theaters. The tours are interesting, but not geared at children.
Wander through the weekend markets at the Rocks. I love this market for finding unique, locally made souvenirs. You can buy everything from goat's milk soap to beautiful beach photographs, plus there are food stalls to munch through if you work up an appetite.
Eat your way through Chinatown and Chinese Garden of Friendship. Pork buns, dumplings, Sichuan chicken, Korean BBQ, Malaysian roti and so many other ethnic delights lay on Dixon St. And it's not a visit to Chinatown without a delectable, bite-sized cream puff from Emperor's Garden.
Explore the Kids Room in the Museum of Contemporary Art. An intriguing free museum, the exhibits rotate regularly, with an emphasis on Australian artists. On the third floor, the kids room hosts a range of activities, books, and crafts related to the current paid exhibit.
In the Rocks, we always find ourselves mesmerized by the candy making in action at Sticky. The sugar candies and poured, rolled, and cut behind a large glass display to the delight of onlookers – they also offer samples 🙂
Skip: The Rocks Discovery Museum (it's free, but dry history and not kid-oriented) and Munich Brauhaus (if you're starving, it's fine, but there are so many superior options). 
Beaches
Sydney is known for it's wide, white sandy beaches, and deep turquoise water! Nothing says Sydney more than a day at the beach, stopping for brunch and fish in chips at a beach kiosk or cafe.
A few safety advisories that locals take for granted: Be aware that most beaches feature strong rips, and may also be home to jelly fish and the occasional shark. Always swim on patrolled beaches between the flags. If you need help while in the water, raise your arm above your head and a life saver will come for you.
Sun exposure is another danger that should not be overlooked, as the UV levels are much higher in Australia than other parts of the world. Always wear a hat, UV blocking sunglasses, and sunscreen – especially if you will be outside between 10am-4pm.
Best Sydney beaches for kids – Calm, lapping water, wide beaches and beach playgrounds make these great places to take kids.
Our favourite family beach – Watson's Bay. Hop on a ferry at Circular Quay for a breezy ride across the harbour. Stop for Fish and Chip's at Doyles or the Fish Chippery (my preferred option) and then head to Camp Cove beach. I love this beach for the clear, calm water, and family atmosphere. Nearby, you can take a short kid-friendly walk along breathtaking, dramatic (and fenced) cliffs.
Our top five Sydney walks – If you can only choose one, Coogee to Bondi is the iconic option. The views are absolutely stunning, and the boardwalk is fun for younger kids. The walk is absolutely not pram-friendly, so bring a backpack if you will need to carry little ones. All of the walks in this article are  accessible by public transit from the city with detailed directions.
Day Trips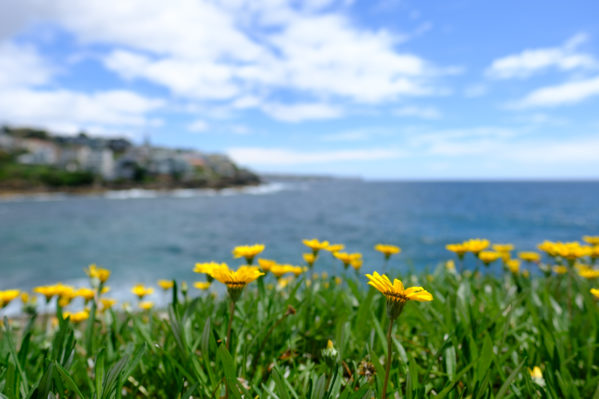 Sometimes you want to escape the city grind and explore! For a full list, read: top 5 Sydney day trips – all accessible by public transit.
Royal National Park
For incredible coastal views, and an optional swim, my first pick is the Marley Head track in Royal National Park. Read this article for how to navigate to the park (train then charming antique ferry), plus everything you need to know about the Marley Beach track.
Blue Mountains
The Blue Mountains appears to be the most popular option, and the stunning vistas are incredible. However, there are a few things you should know before traveling:
The weather is extremely fickle, when the fog rolls in the lookouts are completely cloaked. I would suggest checking the weather and only booking a day or two in advance.
Katoomba is the major tourist destination because of the Three Sister's lookout. However, we find nearby Leura much nicer and quaint with lots of adorable cottages and Airbnbs for rent. If you take the Blue Mountains line train (from Central), you can easily stop in Leura or hike to Katoomba.
For kids, Scenic World is a great way to experience the views, a few short walks, and lots of exciting train rides. Scenic World is located in Katoomba but you will need to catch another bus for 3km or so. It is a great rain option, although it will be extremely crowded.
The Blue Mountains Line train is incredibly simple to navigate on your own, and only about $7 per person. Keep this in mind when looking at tour prices!
Centennial Park
Nestled in the Inner East suburbs, a visit to Centennial Park will give you a feel for life in Sydney. Until the new light rail is finished, the easiest way to get here is by car. Request a drop off at Centennial Park Cycles on Grand Dr. You can rent individual bikes or a family surrey and casually ride along the mostly shaded separate cycleway encircling the park. Stop for lunch at the Parklands Cafe and savor delicious, fresh food under the canopy of trees. Around the corner is a great playground for young kids and a open field perfect for running.
To get you started, here is a sample 3-day Sydney Itinerary!