When You Should Visit
When we asked locals here in Australia about visiting Tasmania with kids, many of them responded with "Why?" However, those tended to be ultra-city people who visited a long time ago or as children. (Without our guides 🙂 )
Everyone else exclaimed it was breathtaking anytime of year! Several of them pointed out that you could feel the difference when you breathed the air, stepping off the airplane on the tarmac. Surprisingly I can verify this claim. Tasmania has some of the cleanest air in the world. According to the experts Antarctica is the other place with air this clean. Which reminds us, they train for antarctic expeditions hear. Translation, winter can get very cold in elevated inland parts of Tasmania. (-10C / 14F)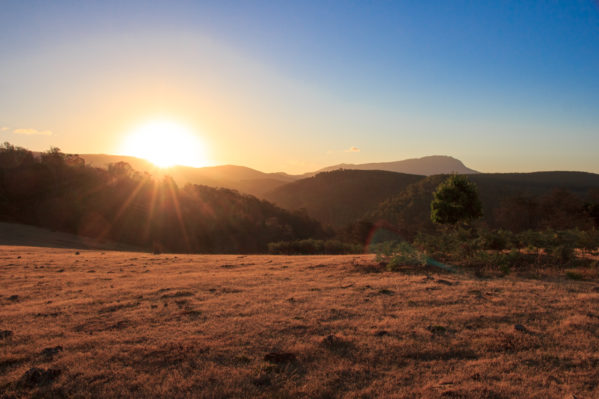 Seasons, Weather, What's On
Summer (Dec – Feb) is everyone's top pick for visiting Tasmania. It's a beautiful place to spend Christmas. Even being the busiest time of year for tourism, the island still feels remote and the crowds in Launceston and Hobart make it feel more alive than crowded.
Summer also brings some incredible events, like the finish of the renowned Sydney to Hobart Yacht race, Taste of Tasmania, and MOFO at the MONA.
Avg Temps: 10C / 50F lows with 23C / 74F highs. Max temps can hit 38C / 100F, and water caps out around 21C / 70F. The temps can swing wildly, and we wished we had more long pants, and a light jacket during our Christmas trip.
Autumn (Mar – May) is sometimes referred to as a "Season of the Senses." It is a great time to visit for the foodies, with the harvest in April, and the landscape is bursting with harvest colors. Additionally, the photographers in the family will love the epic lighting at golden hour, and a family portrait under a turning Fagus tree is a beautiful scene. One thing to know: Aussies have a long public holiday weekend for Easter so the campgrounds book out early.
Autumn events include Taste of the Harvest, Penny Farthing Championships, and several music and arts festivals across Tasmania.
Avg Temps: Mar kicks off with mild weather,  10C / 50F lows and 21C /  70F highs, but  by May this drops to 6C / 43F lows and 16C / 61F highs. Again this can fluctuate considerably depending on elevation and other factors. 
Winter (Jun – Aug) Tassie's natural beauty makes for a stunning winter wonderland with a dusting of snow. There is just enough snow in parts for a bit of skiing, and there are numerous opportunities for festivals and fireside chats. Some of the inland accommodations will shut down for this period, but is still plenty to see. The brisk weather makes some of the more intense day hikes around Freycinet National park more comfortable, and the frost covered rain forests are a sight to behold.
The most notable event in Winter is the Dark Mofo, an art festival best known for fire organs and a range of darker arts. Other events for the season include, the Devonport Jazz Festival and the Chocolate Winter festival in Latrobe.
Avg. Temps: In some places average lows are 3C /  37F and highs are 12C / 53F. Snow is likely inland, closing some of the hiking tracks. 
Spring (Sep – Nov) The tours and accommodations that closed for the winter will begin to open back up in October as the island begins to thaw. The weather is a mix of winter reminders and summer previews, and it brings amazing colors to the historic gardens and Bloomin' Tulip festival. There is also an "explosion of trout" in the rivers.
Spring features the aforementioned Bloomin' Tulips festival, the Australian Antarctic Festival and numerous tasting festivals, including Tasting at the Top in Cradle Mountain.
Avg Temps: Spring has lows around 7C / 45F and highs around 16C / 61F, with a decent variation depending on location and month. It is definitely much colder at the start. 
Now that you have a good overview of the weather and activities, it's time to pick a season. Discover Tasmania has a good current list of the year's events, if you need help with specific dates.
How long should you spend in Tasmania?
Tasmania is small and diverse. When you look at the map, you think, "I can cover that in under a week." You can't. You might pull off the drive, but it will be rough. Also, you'll miss a lot. Our recommendation for Tassie is that you pick how much time you can spare, and plan your trip around that. It is a great destination for any length of stay over 1 day. You can live there for years and not see it all, and you can cover most of it in under 1 month.
For our first visit, we did a week, and we only managed to cover about half of the island.  The roads are mostly one lane, and the speed limit is not particularly fast.

Where should you stay?
We prefer booking Family Friendly Airbnb accommodations for the best local experiences, and we stayed at two incredible places during our Tasmanian adventure.. Most guides will tell you anchor to Hobart or Launceston, depending on your flights. It can work out to arrive in one and depart the other, but this adds to the cost of your car rental. We chose a round trip from Hobart, and drove a smaller loop up the east coast.
In addition to the amazing place we stayed during our visit, here is our shortlist for the next visit:
Hobart Accommodations: Check out 5 Stunning Modern Renovations
Visiting Tasmania with Kids – Getting There
Plane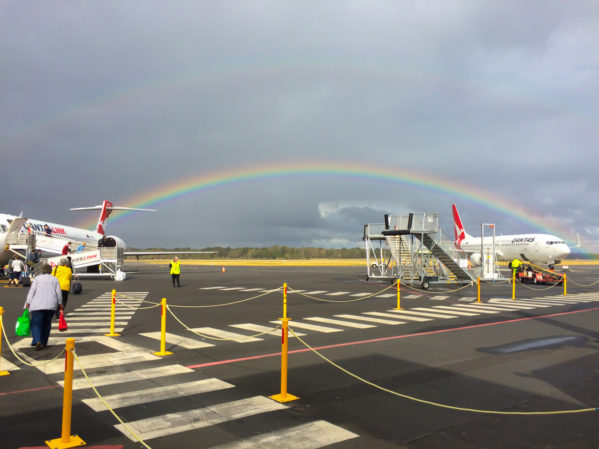 Flights are available direct to Hobart and Launceston from most major cities, and the fares vary considerably. We booked early for our Christmas visit, and the flights were a little over $100 each way. The two main airports on the island are in Launceston and Hobart. We chose to fly to Hobart because it was our top choice city. We enjoyed the small airport, and JZ managed to capture these rainbows as we crossed the tarmac to board your flight home.
Qantas was our first Australian flying experience, and we tend to book with them and/or Jetstar. Jetstar has the cheaper fares. However, they also have fewer amenities and checked bag fees.
Ferry / Cruise
*We did not ride the ferry, and the reviews are mixed. If you love cruises and boat trips, it is a little too short, and if you don't have a lot of time, the day is better spent in Tasmania. Especially since the overnight cruise means you won't see much of the beautiful Bass Strait. If you're still keen here are some details:
The Spirit of Tasmania offers one or two trips across the ocean from Melbourne to Devonport depending on time of year and the day of the week. Most departure times are overnight, but during peak times / season they offer a morning departure as well. The fares ranged from $178 to $480 per person for 2 of us during peak season, but they have specials in the $99 range for early bookings. The fares vary greatly by day, season, and whether you bring a vehicle.
The ship has capacity for cars, motorhomes, and camper vans, but there is no access to your vehicle during the trip. If you want a designated seat or cabin, that costs extra.
Onboard entertainment includes dining, cinema, games, wifi, and play area. For day sailing voyages, there are kids activities such as face painting, storytelling, and performances.The activities are geared toward educating the kids about Tasmania, according to their site.
Note that offerings differ for day and overnight sailings, and there are additional charges food, wifi, and cinema. Check the website for details on which activities are paid vs. included in your fare. 
Additionally, there are many multi-day cruise options from various ports around Sydney.
Things to do in Tasmania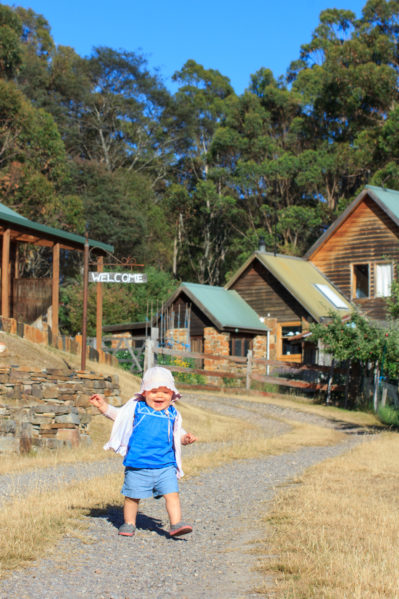 Tassie is an excellent opportunity to take your family off the beaten track. There is an astonishing supply of tourist attractions littered among incredible unspoiled natural beauty.  If the cities are more your thing, check out our list of 8 Things to do in Hobart with Kids.
Hiking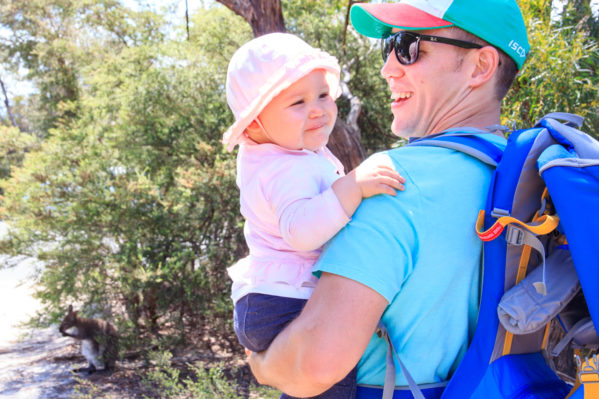 Our favorite hike from the trip was, Wineglass Bay. There are a couple of options for getting to the beach on Wineglass Bay, which is a definite highlight. I't beautiful, white sand is largely empty thanks to the popularity of the look out and strenuous trail stairs down to the beach. There are two routes to choose from, an out and back from the carpark via Wineglass Bay Lookout, and a circuit through hazards beach. When we return we will go with the circuit. It's a 4 – 5 hour return compared to the 3 hour return on the out and back. As we nation in the post, there is no place to fill up water, so make sure you stock up at the visitor center or back in town.
This is actually a noticeable difference between many of the other parts of Australia we visited. Been so rural and unspoiled, Tasmania has fewer water stations. We recommend for most of the hikes, that you have a good supply back in the car, and always leave with full water bottles.
Other Hikes
Scenic Drives
Even with a carsick toddler, we loved The Great Eastern Drive, and when we return, we will brave another one, although we might take a bit more time. The recommendation on Discover Tasmania is 2-5 days.
1+ Days
The Convict Trail runs 205km from Hobart to Port Arthur, and is rated for 1 to 3 days. It is a drivable distance for 1 day, but that depends on how long you want to stop in Richmond and Port Arthur.
The Great Western Tiers drive will take you from Launceston to Cradle mountain via Deloraine. This is beautiful countryside to explore, and we loved the few days we spend on an eco farmstay near Deloraine.
The Heritage Highway runs from Launceston to Hobart, making it a great option for a a Tassie trip flying into one and out the other city. This route offers a healthy selection of heritage homes and sites for your family to explore.
2-5 Days
The Cradle Country route is great for an adventure starting in Devonport. The route runs to Burnie, taking you by one of Tasmania's most popular peaks, Cradle Mountain.
If the Cradle Country route leaves you yearning for more, The Northwest Coast is a great option that will take you from Burnie to Cape Grim.
Epic Touring Holiday
The Coast to Coast route covers the best of everything, but you'll need 14 – 21 days. Split across three stages of roughly 500km each, this looks like an awesome trip for a camper van adventure!
Beaches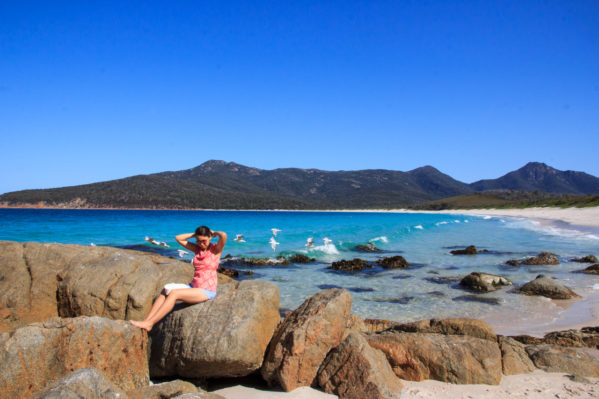 Of course, Wineglass Bay was our favorite beach, but Tasmania is littered with amazing beaches. Just around the corner from Wineglass bay is Coles Bay, which is a great place for kayaking with the family.
We spent Christmas at Griffiths Point on Bakers Beach, and had the whole beach to ourselves! One item of note, is that JZ did have an encounter with a rather large snake so keep your eyes open.  All he had to do was walk the other way 🙂
For a few more beaches to check out, we like this post from yTravel blog, if you haven't seen it already.
Art
The MONA is an reportedly one of, if not, the best art museum in Australia. While we are sad to have passed it up during our trip, the exhibits can be a bit intense so it fell off our list.
Travel Tips & Things to Know
Taxis will not have car seats. We chose to rent one with the car, which meant we struggled with getting to town from the airport. You can hold the children in your lap, which they call nursing. (Weird right?) We were not comfortable with that in a small car, so we opted for the shuttle into Hobart.
Car rentals are expensive. We picked up our rental car in the city instead of at the airport. This saved us enough money for a couple of family meals. Additionally, we shaved a few days off the rental as well, by leveraging public transport and walking around Hobart.
The roads do a lot of winding, which is an issue when you have carsickness prone children. Budget extra drive time.
Also, the roads and highways are primarily one lane each direction, with semi-regular passing bays on the highways. Again, budget a little extra drive time.
There is more to do than you think. Fortunately, you are unlikely to be disappointed regardless of what makes the travel itinerary for your trip, as long as it is not a long list of tourist traps.