Food is such a huge part of culture, so whenever we travel we compile a food bucket list. Here are some iconic Australian foods that you should try while visiting, as well as some suggestions on where to find a delicious version in Sydney.
Some notes:
In contrast to other lists I've seen floating around the internet, I only included items that locals actually eat. Some of the items are traditional Australian foods and others are items that struck me as odd or different coming from the US. Visitors from the UK may attribute 1/3rd of my list to their heritage and Kiwis might try and claim another 1/5th.
I only included items that I or a member of my family enjoys eating (vegemite toast = JZ).
Save for rare exceptions, do not buy the below the items at a grocery store, convenience store or gas station. Go to a locally owned, small batch producer and enjoy!!
Iconic Australian Foods: Desserts/Snacks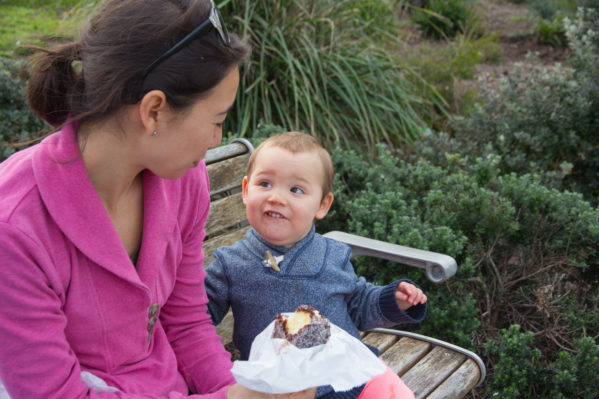 Lamington
I procrastinated trying these delicious coconut encased, chocolate soaked, sponge cakes primarily due to the vague name. To me, Lamington sounds like either a sheep in a children's cartoon or the uncle of the Archduke of Canterbury, either way, not appetizing. However, the perfect lamington melts in your mouth, with lightness and subtle sweetness.
We prefer to buy these at one of the small bakeries dotting the suburbs.
Read more about the history of Lamingtons (curiously from 'What's Cooking America', can it be trusted?)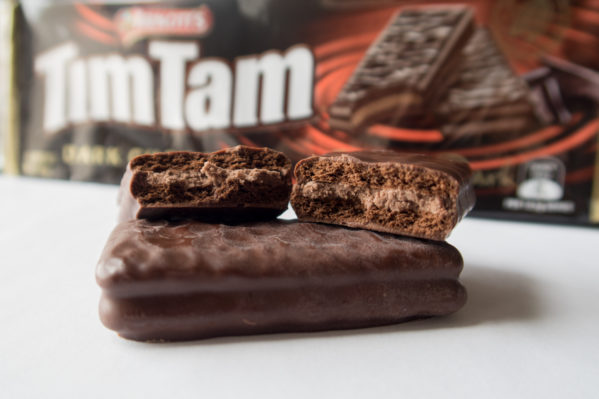 Tim Tams
The chocolate covered golden child of it's greasy American Oreo sibling. Australian adults and children rave about these chocolate cream biscuits. With new flavours annunced regularly, and combinations from the classic milk chocolate to coconut cream, I can't think of any reason not to sample a pack or five. JZ and I prefer the rich dark chocolate for TIm Tam Slams in our coffee (see below).
You can find this at: literally any grocery store, do not pay 100% more to purchase at the airport – plan ahead.
Watch a video with the scientific technique of a Tim Tam Slam with Neil De grasse Tyson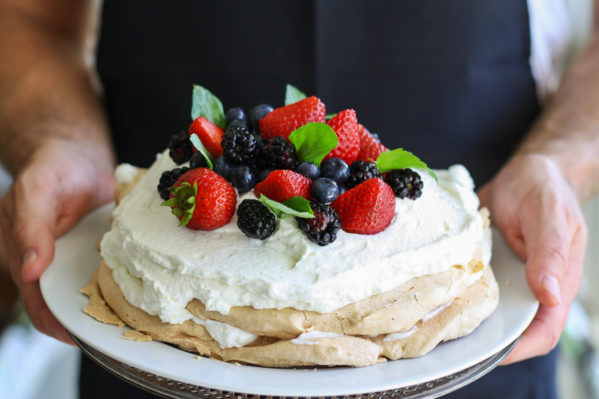 Pavlova
A light and airy meringue piled with fruits and whipped cream, this summer dessert is a Christmas staple. I love any dessert whose primary ingredient is sugar, so I consistently overindulge in the borderline sickly sweet dessert. Fortunately, the tart berries and hand whipped cream even out the overwhelming sugar. The fruit topping can vary from summer berries, passionfruit (more on that later), to kiwi.
You can find this at: many upscale restaurants during the summer, Icebergs in Bondi Beach claims to have a seasonal variety consistently on the menu
Read more about the intense research over whether this is an Australian or New Zealand treat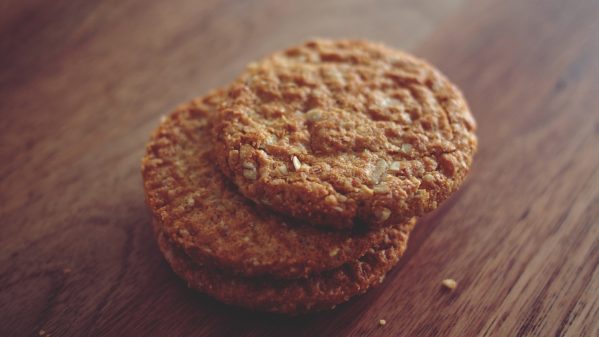 ANZAC biscuits
Extremely popular around ANZAC day (April 25th), these thin coconut biscuits harken back to the days of WWI. According to legend, women prepared this oat and coconut biscuits because they kept for long duration, even at sea. This story can give you a bit of insight into the texture – hard and crispy. Freshly baked versions are much more enjoyable than the store bought varieties (they hurt my teeth), although they are a bit harder to find outside of March-May.
You can find this at: any bakery in April, otherwise you might have to look around a bit
Read more about what Australians and New Zealanders commemorate on ANZAC day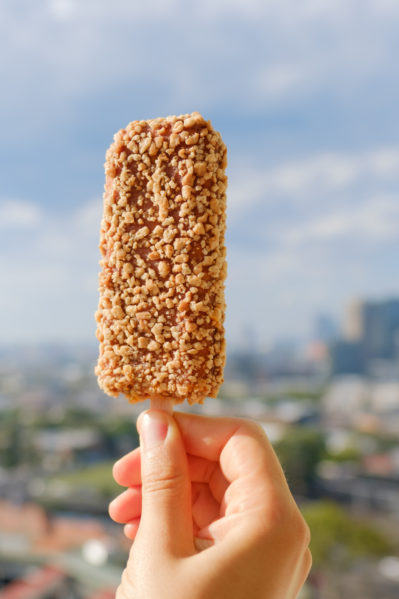 Golden Gaytime
A summer favourite: vanilla ice cream stick surrounded by toffee ice cream, topped with biscuit crumbs. The texture reminds me of strawberry shortcake ice cream without the overwhelming strawberry chemical aftertaste. JZ's guilty pleasure, that he loves introducing to guests.
You can find this at: all grocery stores
Passionfruit flavoured dessert
I'm not sure why, but Passionfruit is a popular dessert flavour in Sydney. For people who can't even picture a passionfruit (me, for most of my life): think of a tennis ball shaped dark purple/black fruit with think leathery skin. Cut it open to reveal bright, citrusy yellow flesh dotted with black seeds. The seeds and flesh are served together as a sweet, tangy, crunchy topping. Some drool-worthy sweets include passionfruit gelato, passionfruit yogurt, passionfruit trifle, and passionfruit pavlova.
You can find this at: depends on what you are looking for most grocery stores will carry several yogurt options, it's a popular gelato flavour, and nice restaurants may have a dessert on the menu.
Chicken chips/honey baked ham chips/ honey soy chicken chips…etc
For all of the random flavours American's invented for chips, meat is generally not one you see in stores. In Australia, it's a different story: meat flavours dominate the shelves with chicken, honey baked ham, and soy chicken being the most common ones. We are not big chip eaters, but I will say that I was surprised how much I liked the chicken flavour. The first bite, "Here we go" munch crunch "wow, this tastes exactly like chicken" "Hmm. it's actually unnerving….maybe I should try another one"
You can find this at: Anywhere chips are sold (everywhere)
Iconic Australian Foods: Breakfast
Things you should know: Sydneysiders are serious about breakfast, and by breakfast I mean a huge plate of food with a side of bread. During your stay, you must sit down for breakfast at a local cafe (not a chain, please!!). While perusing the menu, consider the following: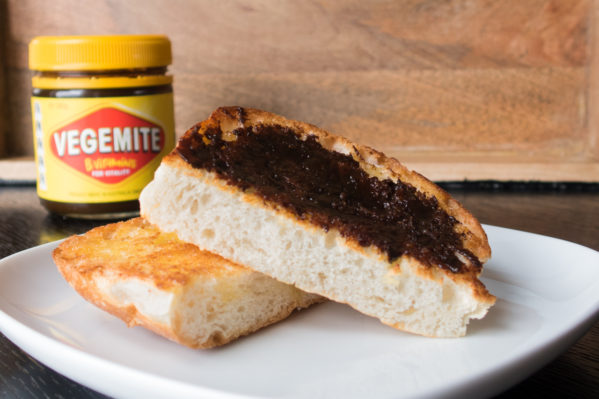 Vegemite on Buttered Toast
A salty, pungent, yeast paste, vegemite is best served with a light spread on heavily buttered toast for the uninitiated. When you order, either request a little bit or served on the side (speaking from experience). Many Australians grew up on vegemite sandwiches (bread and vegemite) CZ receives them as afternoon tea at childcare. JZ delights in the savoury spread as a perfect complement to coffee when he's in the mood for a salty snack. I can take it or leave it, but will admit it has grown on me in the past couple of years.
You can find this at: any cafe in Sydney
Read more about: Vegemite's history
Banana bread
Australians are serious about their banana bread, even though they don't quite realize it. Banana bread is never not on the menu, which goes to show how ingrained (ha!) it is. Luscious, thick sliced banana bread is served anywhere you can buy coffee, from 7-Eleven to exclusive hotels. Fancier cafes often include a signature twist, serving the bread with espresso butter or honey and ricotta. You can always get it toasted, and it will be served with butter.
You can find this at: pretty much any cafe. it is also available at cheap convenience stores but the taste will reflect the price.
Read more: Sydney's Best Banana Bread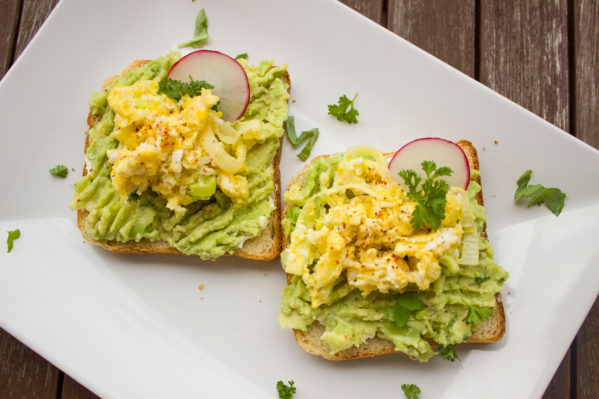 Avocado toast
While the avocado toast has made it's way across the globe, I still think Aussies do it best. Smashed avocado seasoned with lemon and salt piled decadently on crunchy whole grain bread, and topped with a few herbs can't be beat. Unless you add a poached egg, everything is better with a poached egg.
Read more: Sydney's Best Avocado Toast

Flat White
Barista coffee is an integral part of the social and cultural landscape of Australian cities. Grabbing a cuppa provides a great outlet for a first conversation, informal business meeting, or gathering of friends. We love the flat white for the delicate balance of espresso and cream (called milk), and frothy top. Unlike the more globally known cappuccino and latte, the flat white is a touch smaller. This creates a more even ratio of coffee to milk, and it allows your perfectly pulled espresso shot to serve as the star of the show. The milk serves as support in it's foamy goodness. Not quite as dry as a cappuccino and much more velvety. Your local cup of joe will never be the same.
You can find it at: any cafe
Read more: What exactly is a flat white?
Iconic Australian Foods: Lunch / Dinner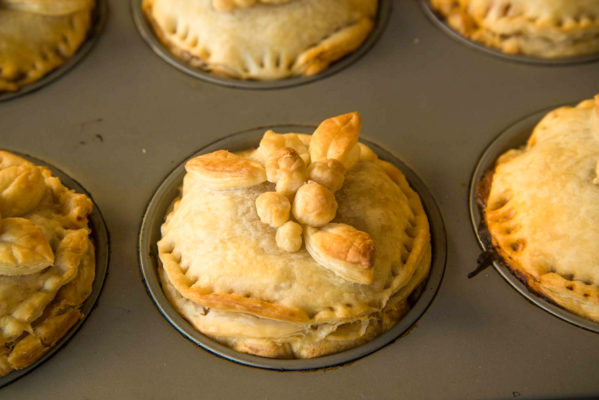 Meat pies
Many Americans struggle with the concept of a savoury pie, until I mention chicken pot pie, then they can stomach a meat and gravy pie. Meat pies are standard Australian pub food, a flaky, buttery crust filled with a mix of meat and vegetables and thick gravy. I love mine smothered with all the toppings: mashed potatoes, mushy peas and gravy.
You can find this at: Harry's Cafe de Wheels and most any hotel (as in bar/pub)
Read more about: This journalist's first attempt at making a meat pie from scratch – The introduction about the memories associated with meat pies makes me wish I grew up on them…the calories do not.
Kangaroo
I know, the iconic bounding Australian animal can also be served for dinner. I hesitated about including Kangaroo because I feel like it's served in more touristy areas of the city; however, there is a section of kangaroo in my local grocery store, so I can't argue with that! As you might expect with all that jumping, kangaroo is a very lean meat and can be tough if overcooked. Kangaroo filets are served rare to medium rare and usually marinated.
You can find this at:  If you want the bucket list check without a fine dining experience, order the Coat of Arms pizza at the Australian Hotel – emu and kangaroo on one slice!
Read more about: how Kangaroo transitioned from pet food to gourmet 

 Sausage
Australians can't resist a good sausage sizzle, from the weekend tradition outside of Bunnings (home improvement store), a post election day snack, to family get togethers the BBQ is a mainstay. Traditionally sausages are served in one piece of white sandwich bread with tomato sauce (ketchup), and caramelized onions.
You can find this at: fundraisers, looking pitifully at a nearby family on the beach, or just buy your own and go to the nearest park/beach, there is almost guaranteed to be a barbeque for public use.
Read more: Buzzfeed covers Election day sausages
Would do you think, which iconic Australian foods do you most want to try? Aussies, what did we leave off the list?