Looking for information on how to use an opal card, where to buy, and whether or not you even need one? Read this article for all of the basic information for travelers to Sydney and New South Wales. 
For anyone traveling to Sydney, a brief amount of research should yield a few revelations in regards to travel: you don't want/need a car, you need an Opal card to use public transit.
Public transit in Sydney is awesome! We love catching the lightrail into the city, a ferry to the beach, or a regional train all the way to Wollongong and the South coast. The lines are fairly intuitive and station staff have always been helpful. In order to take advantage of the comprehensive system, you will need an Opal card. The Opal card system has evolved steadily since our arrival in Sydney in December 2014. In light of recent changes, we wanted to compile a basic guide on how to use an opal card. Be aware that as of January 2017, all passengers must be traveling with an Opal card.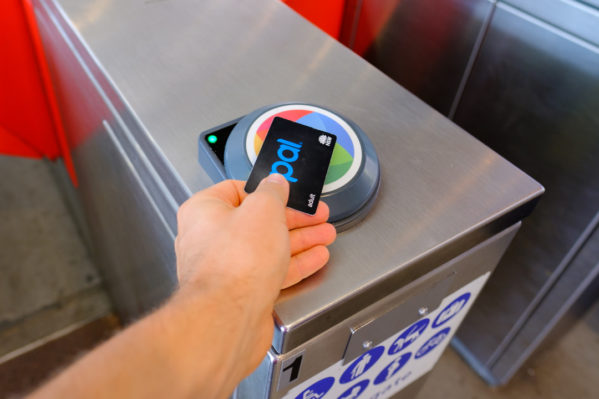 What is an Opal Card?
An Opal card is a ticketing system that allows passengers to travel on all public transport within NSW. This includes buses, ferries, light rail, and trains within Sydney and surrounds (Blue Mountains, Newcastle, South Coast).
Opal cards require a light tap on the sensor to read the account balance upon entry and deduct from the account upon exit. Charges vary by transportation type, trip distance, and transfers (30 minutes or less between taps on/tap off). If you are interested in the details of the fees, look at this article.
For the purposes of this article, we will explain the basics: how to use an Opal card to travel on the NSW transport system.
How to Use an Opal Card – Basics
As of January 2017, there are two main types of Opal Cards: single use and refillable smart cards.
The refillable smart cards provide several savings advantages and I would recommend one to anyone visiting Sydney and planning to use public transport. The benefits include:
$2.50 daily cap on Sundays
$2 transfer discount (awesome for train to ferry rides)
$15 daily cap and $60 weekly cap
Half price fares after 8 journeys
30% discount during off peak travel
You will need one Opal card per traveler.
Opal cards can be purchased at the airport, train stations, and various retailers throughout the city. Most retailers will advertise their involvement with Opal. While purchasing an Opal cards is free, each card must be loaded with at least $10 for purchase and top up. Find a retailer near you.
You can refill (top up) your card online, at various retailers, and kiosks at selected stations. Station kiosks are the busiest option and you may have to wait in a long queue during peak travel time.
Tapping Messages
Refer to this helpful graphic about the different messages you will receive upon tapping on and off.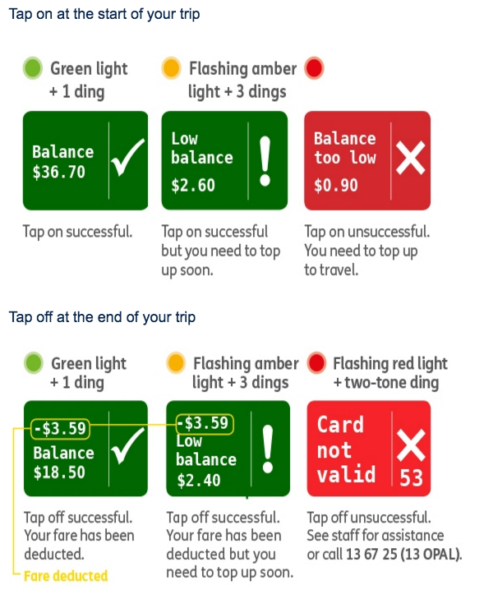 As with any technology, you will occasionally receive an error message in error. Generally, tapping again will solve the problem. If you are unable to resolve the issue, see station staff. If you forget to tap off or walk through open gates, you will be charged the maximum fare for that journey (ie. riding to the end of the line).
Warning: you could be fined for traveling without a valid Opal card. Patrols regularly check Opal cards on the light rail and trains.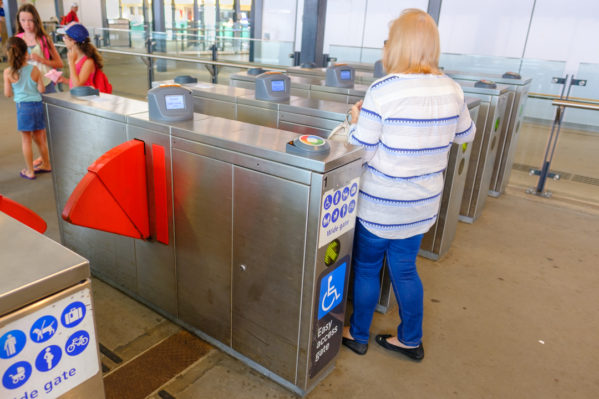 Opal Card Terminology
Tap On/Off – tapping through a mechanical gate or at a post (in less urban areas), this signals your card that a trip has either commenced or completed.
Trip – One leg of your journey on one type of transport. For example, if you took a train to Circular Quay and then a ferry to Watson's Bay, you would complete two trips: the train ride and the ferry. You would tap on and off for both trips.
Journey – Consecutive trips taken within 60 minutes of tap off.
Transfer – A change in transit mode or route that occurs within 60 minutes of tap off. This signals the end of a trip but the continuation of a journey.
Cap – The maximum amount you will be charged regardless of the amount of travel. On Sundays, this means that everything after your first train/bus ride will be free!
Frequently Asked Questions
Do I need to Register my Opal Card?
Registering your card amounts to free insurance. It creates an online account of your card so that if it is lost or stolen, you can easily cancel the account and transfer the funds. Set up is simple, and you can enable auto top up, so you never have to worry about topping up your card while traveling.
How can I check my card balance?
At the end of your trip, the Opal card reader will display the remaining balance on your card. You can also check your balance online when you register your card.
Can I use my Opal Card on the Manly Fast Ferry or Sydney Fast Ferry services?
No, the Opal card can only be used for Sydney Ferries services. Other private services require separate payment.