Jenolan Caves was an early addition my Sydney bucket list, and I am stoked to finally cross it off. As my birthday and baby number two approached, EZ decided to surprise me with a family caving adventure. My only complaint is that we wish we had made the trip sooner. We took extensive notes to guide you through and epic family weekend visiting the Jenolan Caves from Sydney, and we even found a great spot to see a platypus or two!

Jenolan Caves – Background
The Jenolan Caves are a series of limestone caves that formed over hundreds of millions of years. There are 8 caves on the guided tour list, and half of them have no minimum age. The area is teaming with wildlife, and heaps of hiking trails, which include two additional self-guided caves. Additionally, there is accommodation at the Caves House, built in the 'English Domestic Revival' style that was all the rage in 1896. The building is on the historical register, and they received funding for a full renovation in 2018. The Jenolan Caves experience is improving!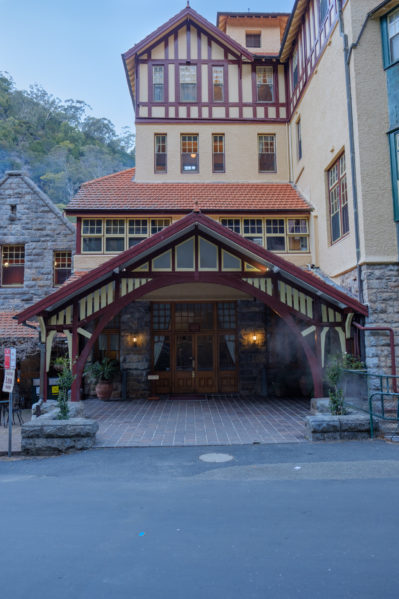 Where To Stay While Visiting the Jenolan Caves
We recommend staying at the Caves House! It is a beautiful building, and it is unquestionably the most convenient lodging for your tour. We were in one of the mountain lodge rooms, and appreciated the kitchenette, and quiet. There was minimal noise from the hall, and nothing through the floors or walls. The pricing varies, and they do fill up occasionally so book ahead. If you decide to have dinner in the Chisholm Restaurant, you will need to make a separate booking. Although, we suggest bringing dinner with you. On our next visit, we will take advantage of the kitchenette or the guest barbecue grill we saw. There was also a small fridge in our room for travel snacks and lunch foods. We recommend a couple of great take-away spots below that will reheat nicely in the microwave.
Booking Your Jenolan Caves Tour
It is less stressful to book your first tour for the morning of the second day. There won't be large tourbus groups crowding the cave, and you won't have to rush the drive down the narrow mountain road. We chose the Chifley tour because it was the middle ground of duration and difficulty. The positive reviews helped a bit too. We thoroughly enjoyed our tour through Chifley, and we met a family who's two-year old did well through the Lucas cave tours. We will definitely try that one when we return, and will likely add a second tour. CZ crushed out a 5 miles of trekking for the day, so she was likely good for a second cave.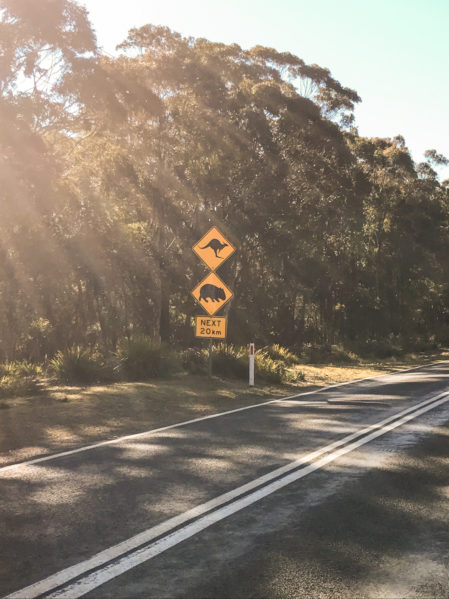 Jenolan Caves – Getting There
The caves are a little over an hour from Katoomba by car, and as mentioned, 2.5-3 hours from Sydney CBD. There are tour bus options, but we prefer stopping at more "off the beaten track" locations, along the way. We chose to hire a car for our trip, and we timed the the most winding mountain roads with CZ's afternoon sleep.
8:00AM – Leave the City
Take a minute before you leave the house to download the offline map files for the area in Google maps. The directions are simple once you lose cell service, go straight. However, we like to be prepared.

10:00AM – Stop for Food and Exploring
If this is your first trip to the Blue Mountains, you may choose to stop in Katoomba for the Blue Mountains most notable sites, Echo Point and the Three Sisters. If you do, pick up take-away food for dinner at  Thai Square or Tamarin. We've been to both places multiple times, and it is much more delicious and affordable than dinner at the caves.
We stopped in Blackheath at Anonymous Cafe for excellent early lunch / coffee, and then did some exploring at Evan's Lookout.

Blackheath is one of your last opportunities to fuel the car and buy food supplies before turning on Jenolan Caves road.
We have not eaten here, but Thai Silk looks promising for takeaway dinner.
Evans Lookout has a carpark, and it is near additional lookouts. We had enough trail to run down our toddler for her afternoon sleep without having to stray too far from the car. Plus, there are bathrooms.

1:30PM – Continue on to Jenolan Caves
Make sure you have plenty of gas and food provisions. There is nowhere to stop, and excluding breakfast, you'll bring better food than you will find on site.
Jenolan Caves Road becomes very narrow at the end, and the last stretch is one-way from 11:45am to 1:15pm to accommodate the tour buses.
Once you turn left off of the Great Western Highway, just continue straight for 45min to an hour, until you drive through a giant cave!
Take it easy down the the last stretch we had a few close encounters, and I was thankful to have the car in low gear. I had plenty of time to stop the car when I saw approaching vehicles.

Late-Afternoon & Evening Activities at Jenolan Caves
We made it to Jenolan Caves with plenty of time to start exploring, and the Jenolan River Walk was awesome. It boasts suspension bridge, a small waterfall, and plenty of wildlife. We arrived a bit late in the day, and didn't make the full return. However, we managed to spot a couple of platypus swimming in the Blue Lake! Pretty exciting to cross that one off the Australian wildlife bucket list.
A short out and back climb to see to Carlotta Arch from the Caves House is another great option, and when it is isn't closed due to rockfall, there is a short path near the entrance to the Grand Arch that will take you to the self-guided Devil's Coach House and Nettle caves. Grab a map and details at the guides office.

Carlotta Arch at Jenolan Caves
Eating at Jenolan Caves
There is only one restaurant, Chisholm's, and if you check reviews, they are inconclusive.  The historic setting tries to make up for the food, and there was a piano player. However, expect disappointment if you stray from the safety-zone of pasta. When we return, we will bring our own food. We spent $85 for undercooked veggies, a marginal steak, two pasta bowls, and a pork belly starter with hard rice. The take-out restaurants mentioned above serve food that will be better in the micro than our dinner experience.
Dinner Fell Short, But Brekkie Delivered!
Arrive when the restaurant opens at 7:30am. The food is fresh, and you'll have more time before your tours and hiking. They had a surprisingly good breakfast buffet, with eggs, sausage, bacon, hash browns, and more. I also enjoyed my cup bottomless cup of filtered coffee, as we fueled up for the day's adventure. As with any buffet, there are some items that turn a bit mushy from the steam in their warming containers.  Sit near the buffet line, and you can take advantage of the fresh hash brown refills. 🙂

Going on Your Tour
Dress warm enough for 15C / 59F. The caves are a constant temperature year-round. You should also where close-toed non-slip shoes. There were a few slick spots from water on the ground. If you take small children, expect a few steep sets of stairs that will either be slow-going or require you to carry your child. It is also important to use the toilets before the tour. There is a restroom at the entrance to the caves, but not inside. There is also no early exit.
They prohibit consuming any food or drink with a scent in the cave, but they allow water. You will find a small, inconspicuous water tap outside the guides office. We almost missed it, until we saw the spigot on the ground that it was attached to. It is a similar to a filtered water tap in the kitchen, not the traditional fountain we sought out. It was nice to have water on the tour.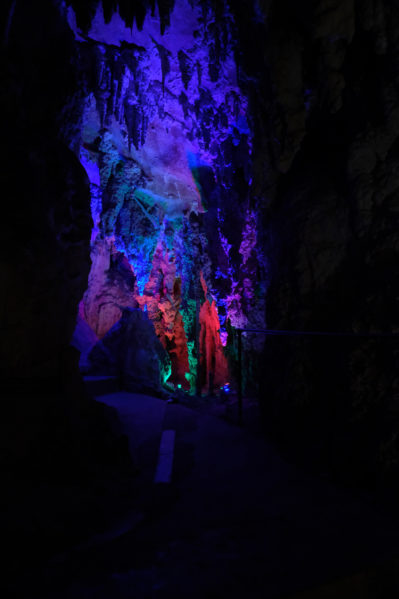 We did not have the epic guide experience mentioned on some of the TripAdvisor reviews. However, our guide was extremely knowledgable, and he had some pretty impressive historical photos on his phone to give us more context for his tales of the caves' history. He also gave us ample time and space to explore and photograph the cave.
There was time for a second tour, but we chose outdoor hiking to see the free Devil's Coach House and Nettle caves.
Taking Photos
They prohibit tripods inside the cave, and I left mine in the guides office. . You will get the best photos with a camera that does well in low light. I will take the G7X to test its Handheld NightScene next time we visit. We went minimalist for this trip. I used the Fuji X-T2 with the XF 16mm f/1.4 lens. If you want to read up on our additional tips for getting the most out of your camera when indoors, check out this post. For this tour, I spent most my time in ISO 3200, aperture between 1.4 and  and a shutter speed of 160 – 250. My goal was to keep the shutter speed up high enough that I could get a few photos of CZ inside the cave. She doesn't stay still for long!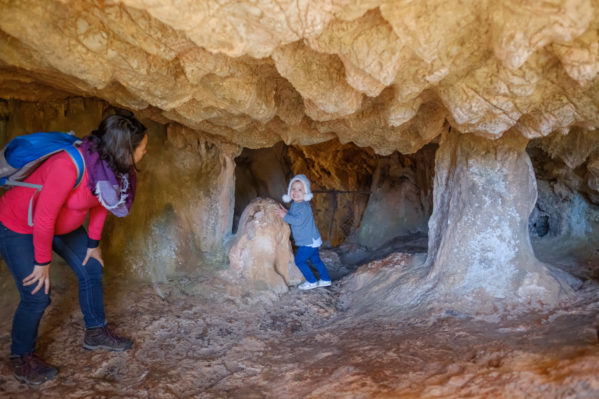 Jenolan Caves Quick Tips
Accommodation & Getting There
Stay overnight and do an earlier tour the next morning to avoid the largest crowds.
Don't do the drive in the dark, and it is 1 way (toward the caves) during midday. Currently, 11:45am – 1:15pm.

Chisholm'

s is average for dinner at best. Bring takeaway food to heat in the microwave. 

If you choose the restaurant, you will need a dinner reservation.
The $20 brekkie buffet is solid. Show up early.
Exploring
Chifley Cave was very walkable for CZ, with exception for one set of rather steep/slippery stairs that JZ carried her down.
Longer hike to devil's coach house / nettle caves worth it, and it passes Carlotta's Arch.

There is a small cave on the way, where CZ really enjoyed playing house.

If you stay overnight, blue lake in early morning/evening at dawn/dusk is best for wildlife. We saw several platypus in the water despite our vocally exuberant toddler!
Depending on when you visit, you may need two sets of clothes.

Inside the caves is always jeans / jumper temperature, despite the temp outside.

There was a semi-hidden / more unnoticeable water tap outside the guides office that we used to fill our water bottles.
Products from Amazon.com
‹
›